Professional makeup artist
Elaine Marie is a professional makeup artist with almost 16 year's experience providing valued clients with expert makeup services.
Elaine provides high quality makeup presentations for weddings, events, photo shoots, TV, video shoots, destination weddings and worldwide events, including Cannes Film Festival.  Elaine is a specialist in bridal makeup, using the finest quality products available. Elaine also provides expert makeup tutoring services for bridal parties, individuals and groups.
Whatever event you are attending, with Elaines' expertise, you are guaranteed to look and feel beautiful.
I first started my career at Greenwoods health spa and at Clinique, learning about the skin and understanding the importance of skincare and I class myself as an expert in this area. My vigorous skincare training includes Clinique, Decleor and Elemis. This has been so valuable for me as a Makeup Artist.  I advise my clients how to start caring for their skin from the moment they secure me for their wedding day. This can be up to a year in advance. I also spend time preparing their skin, on the wedding morning, using the most wonderful products, prior to the makeup application.
I studied Beauty and Makeup at Colchester and qualified as a Professional Makeup Artist Level 3.  Due to the high standard of my work, I got the opportunity to work for the BBC National Lottery, gaining experience and knowledge of makeup behind the Camera
I advanced my training at MINK London Makeup School and continue to stay on trend by attending numerous Master-classes every year.
I was the Head Makeup Artist of the Heart Essex Wedding Show in Brentwood for 6 years.  I was then approached by the Director of the show who asked me to run a team out in Cannes Film Festival last year. The team was carefully selected by myself incorporating some of the finest hair and makeup artists from Essex.   I had to ensure everyone was punctual, dressed immaculately and worked professionally, efficiently and with discretion.
Last year I became a Finalist for the Essex Wedding Awards for Makeup Artist of the Year and I have also just learned that I have just become a Finalist for Makeup Artist of the Year 2021 for The Wedding Industry Awards. Watch this space for any updates...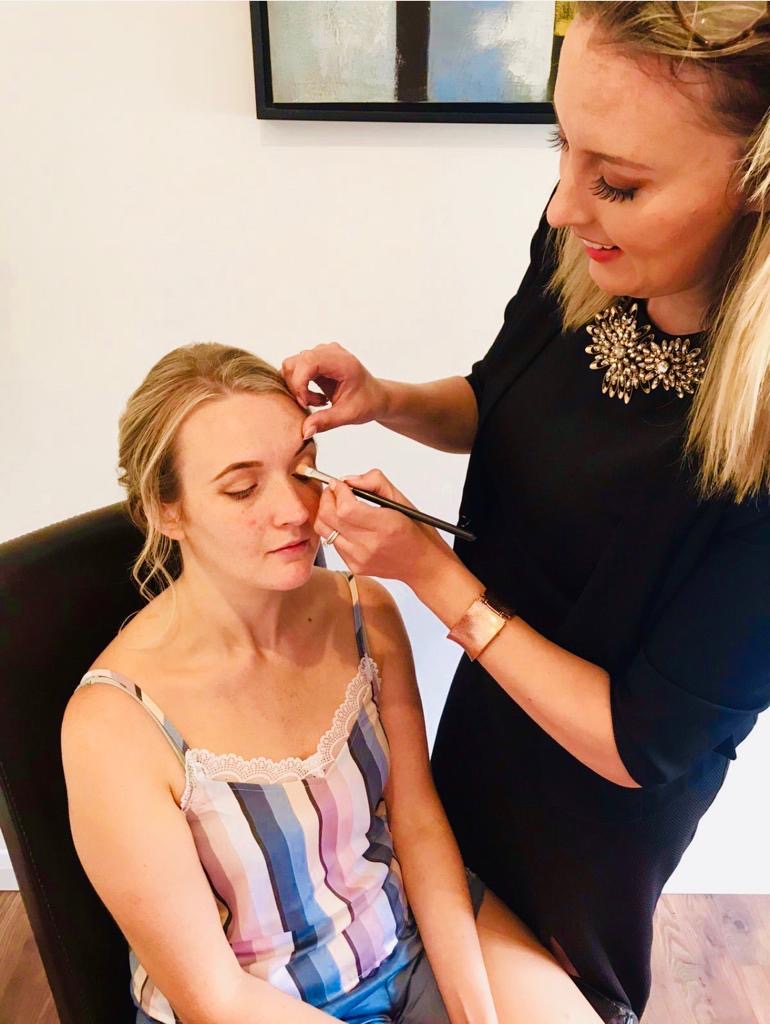 Bridal Makeup Trial

£65.00

Bride Wedding Day Makeup

£120.00

Bridesmaids/Mother of Bride/Groom Makeup Trial

£55.00

Bridesmaids/Mother of Bride/Groom Wedding Day Makeup

£70.00

Flower Girls under 5 - Pink Blush and Lip Gloss

£0.00
Confidence Boosting Makeup Tutorial
You will be taught some great ways to really enhance your most beautiful features using easy to follow techniques, in a way that is easy to understand.  Elaine will customise each tutorial to suit her clients needs.  Learn the importance of good skin care, why eye creams are important. Learn application to have your makeup looking beautiful. Ways to bring your eyes out, why adding lashes really is the icing on the cake if you have a special event to attend. Learn to have the confidence to go out of your comfort zone with your makeup. Experimenting with colour, how to even out your skin tone, best ways to cover dark circles and more.
£60 each client - minimum 3 hours
In a group tutorial Elaine will either use the 'makeup demonstration' on a model why talking through the techniques, makeup brushes used, products, application, to the best ways to get longevity of your makeup etc.
She also uses technique of applying your makeup at a table in-front of a mirror as a group she will demonstrate as above or will go through different makeup looks adapted to each client. In the group tutorial you will learn ways to enhance your best features and have the confidence in your own makeup.
Elaine offers detailed far away bride makeup tutorials, these are great for weddings abroad.  Not only will you feel more confident applying your own makeup. You will be shown tips and techniques that will give you confidence in applying your own makeup to a professional standard out at your destination. Elaine will show you the best ways to enhance your best features, if you will have developed a tan before your wedding & the different light aspects. In the tutorial she will go through the effects of makeup behind a camera and what the ideal makeup products are to purchase that will enhance the longevity of your makeup for your special day.
Professional Makeup Artist Tutorial
Elaine is a specialist in bridal makeup, she has had 15 years experience, attending advanced makeup schools and master classes, carrying out music videos and running a team out at Cannes film festival.  The tutorial can be adapted & customised in which skills you want to be confident in. Elaine will show you makeup application for your clients, tools of the trade, tips techniques, skin care knowledge, camera effects of makeup, the best makeup products for your kit and she will Share Industry knowledge,  The best ways to implement longevity into your clients makeup and answering any makeup questions. (A model may be required)