How To Get That Newly-Wed Glow
Brides and Grooms – prep your skin to perfection for your wedding day, allow your skin to be radiant and glowing. I've put together a little skincare guide on how to achieve the ultimate skin radiance for your wedding. 

Cleanse: Cleanse the skin with a skincare wash or creamy cleanser suitable for your skin, cleaning the pores will a cleanser will not allow them to enlarge or stretch so when your wedding day comes around the skin will look visually more youthful. Switch to a cream cleanser in the winter months and a cleansing wash in the summer months.

Tone: Toning the skin refines the pores and acts like a secondary cleanser. This is an important part of skincare for a bride and a groom on the lead up to the wedding.

Exfoliate: This is one of the most important steps of skin care. Exfoliating the skin will buff, polish and deflake dry dead skincells.This resurfacers the skin for grooms to have the most perfect smooth skin and brides to have flawless looking smooth skin, it allows the foundation to sit better on the skin rather than sitting on micro dead skin cells.You can use a flannel or an eco friendly scrub and use circular motions on the skin.

Moisturise: Moisturising the skin is so important, especially in the winter months. Cold and wind strips the skin of moisture and that's when surface expression lines can be more visible on the skin. Up a high level of hydration on the skin. I highly recommend the Clinique moisture surge skincare range for the ultimate in hydrating the skin. This is an oil free cream-gel texture suitable for both men and women's skin.
 
Eye cream: Eye cream is really important to hydrate around the delicate eye area. You only need a pea size amount and it can be circles in towards the eye and applied in a figure of eight motion around the crows feet area or smile lines. In the summer months it's lovely to keep an eye cream in a fridge, don't forget some invigorating cucumber on your eyes too!

Lips: There's nothing worse than dry lips, you want the most luscious, smooth lips on your wedding day. In the winter they go very dry and need a lip balm or protection. Look at the paw paw ointment or the Manuka doctor lip balm or oil. It's an essential and needs to be applied liberally for smooth kissable lips on your wedding day.If lips are really dry just use some brown sugar with a little coconut oil to gentle deflake them. Wipe away and apply your lip balm.

I am so happy to announce I have become a Finalist for The Wedding Industry Awards 2021. This is such fantastic news and I cannot thank my wonderful brides enough for taking the time to vote for me. I have been working as a Skincare Specialist and Makeup Artist for almost twenty years and I honestly think I have the best job in the world, so to become a Finalist of the TWIA is just the most wonderful news I could have received today. Follow me on Instagram and Facebook for updates and also look out for my product of the day recommendations and also for any offers and competitions I may be promoting.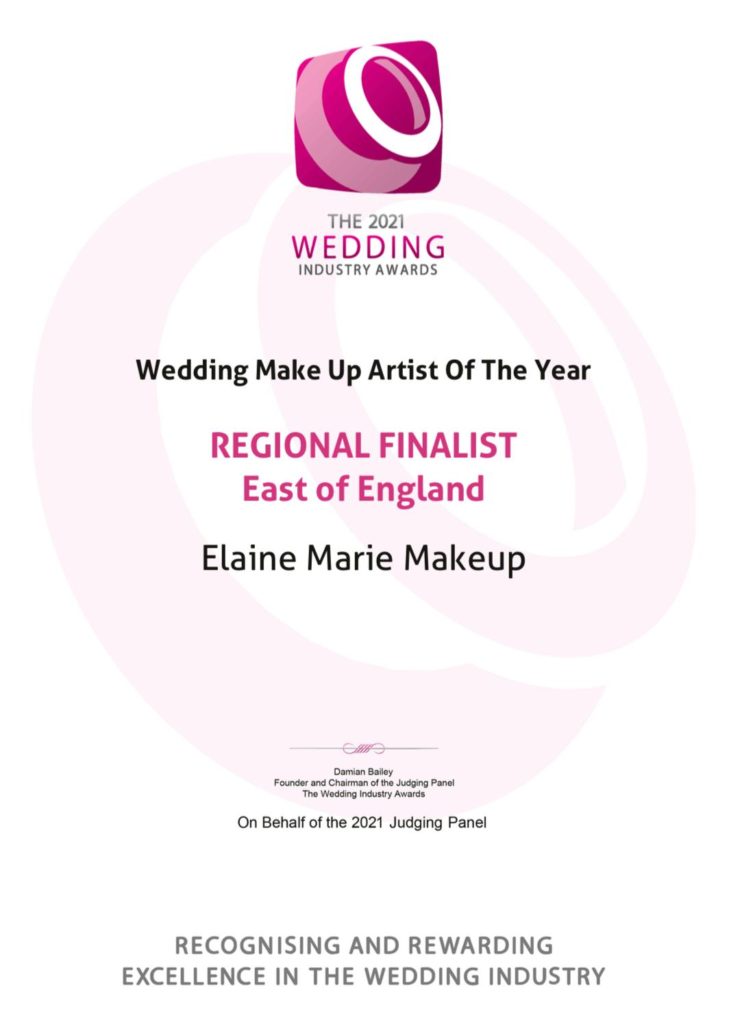 I could not be more excited to write my first ever blog on my beautiful new website. Just like my clients book me to give them a make-over, my website has had a make over!
Clients ask me to add a professional touch to their makeup. For me its all about hiring the right people for the job, that is why I want to say a few thank you's, firstly to Kate pluck who designed me a beautiful logo, and a big thank you to Jonathan Sharpe at webflair.co.uk for helping me to create a website that I can be proud of.
I want to say a huge thank you to my incredible sister, Helen, she has helped me so much. Most of all a heartfelt thank you to my collaboration, my inspiration and my friend Gail Gardner, who has been in my corner helping me with my website and who inspires me every day. Gail is award winning and creates the most outstanding hairstyles. I have the absolute pleasure of working with Gail on many Weddings and exciting projects! You can check her out here: gailgardner.co.uk
There are many psychological aspects of makeup and research shows that when wearing makeup you experience huge emotional and psychological benefits. Makeup boosts confidence and self esteem. Makeup has been used for over 30,000 years! For some women not wearing makeup can give a more negative side to your emotions. To wear makeup or be beautifully made up can encourage more positivity.
Charlotte Tilbury's core philosophy; "Give a women the right makeup and she can conquer the world" sums it up beautifully. Charlotte believes the right makeup can change people's lives and change their confidence because if you look good, you feel good.
Makeup for me is all about enhancing the features in the most beautiful way, but I will still pop out to the shops on my non makeup days, usually hiding behind a pair of sun glasses! I am not blessed with the most flawless skin, so although I don't want to hide behind a mask of makeup, I do like to even out my skin tone. I use a light BB cream or mix a small pump of my light water weight Mac foundation with my Manuka doctor moisturiser or Charlotte Tilburys magic cream. This uplifts my complexion and uplifts me!
One of my absolute must have items in my kit is a highlighter. I love using the Charlotte Tilbury Bronze and Glow, the Mac gentle light or the too faced candle light glow. These add light and radiance to your face and give you the 'within' glow.
No matter how you feel, get up, dress up, show up, never give up and put your makeup on!